In January 2013 Jackson received training from former Broadway Actor Bruce Kuhn when he followed the Word by Heart School in Kona. In 3 months he memorized the Gospel of Mark word-for-word and is now able to present this in a lively 60-90 minute presentation. In the past years he has added the Gospel of Luke to his repertoire as well as smaller books such as Jonah, Ruth, Colossians and working on memorizing the entire Bible.
He has given live presentations of scripture in the US, Germany, Netherlands, Cameroon, South Korea and Mexico. He is also able to give a 2 week (long) or a 4 hour (short) seminar that introduces the basics of this technique by memorizing one story from the Gospel.
Anneke completed this training in March 2017. She is able to give a 90 minute presentation of the Gospel of Luke in Dutch.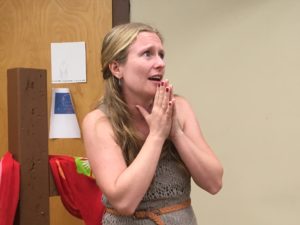 If you would like to learn more about inviting Jackson and/or Anneke for a presentation and/or seminar please CONTACT us. To read more about taking this post-DTS second level school visit the www.wordbyheart.org website
Here you will find a sample of Jackson presenting the Gospel of Mark at Mokuaikaua Church:

Here you will find a recording of the Book of Mark in Sacramento

Book of Mark from Edward Black Productions LLC on Vimeo.
Here is a fragment of Anneke presenting in Dutch: